ONLINE APPLICATION
A.O.S. in Surgical Technologist
62 Credits
Program Length: 75 Weeks
Total Clock Hours: 1550
Want to Jump-start a Rewarding Career as a Surgical Technologist? Looking for a college in midtown Manhattan? Look no further than Mandl. As one of the top surgical technologist schools in NY, Mandl School, The College of Allied Health's accredited Surgical Technologist program prepares you with the relevant skills you need to succeed.
The primary goal of the Surgical Technology Program is to provide students with a learning environment that will enable them to acquire the (1) knowledge, (2) technical skills, and (3) behavioral components necessary for entry-level employment as a competent Surgical Technologist. The surgical technology student is given a broad background in the basic sciences of anatomy, physiology, medical terminology, pharmacology, pathophysiology, and microbiology to serve as the foundation for the advanced subjects to follow.


The Surgical Technology Program makes use of a fully equipped clinical skills lab with standard operating room equipment. Students may be required to obtain a physical examination to include PPD and Hepatitis B series vaccination prior to their externship. By the end of the classroom instruction and externship, you will have received the training necessary to allow you to assume certain responsibilities in the operating room, including instrument setup, assisting the surgeon, and assisting with post-operative dressings.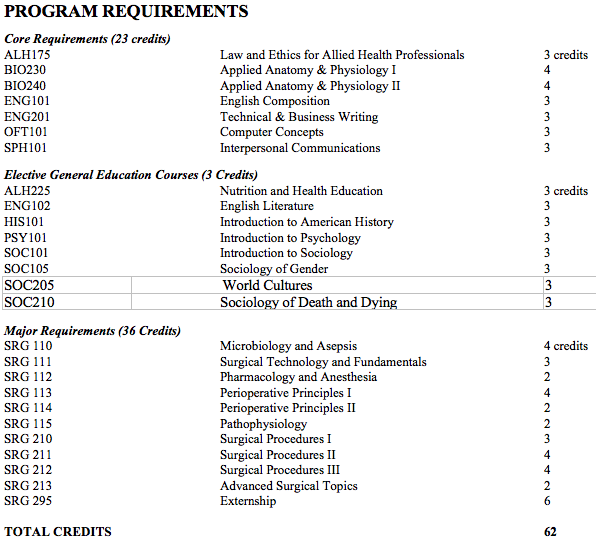 Student Learning Outcomes Opportunities