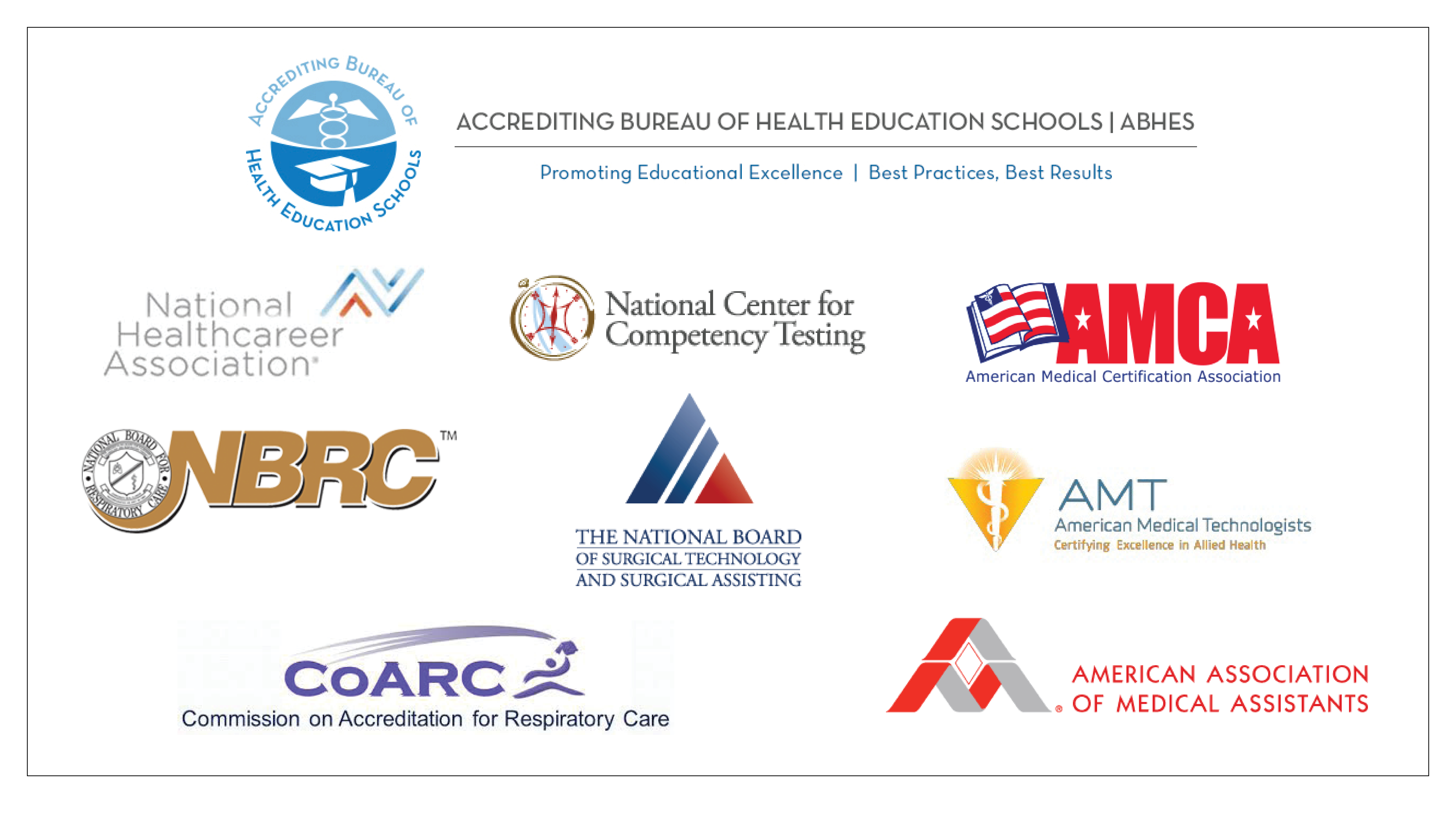 Mandl is authorized by the Board of Regents of the University of the State of New York to award the Certificate in Dental Assistant, the degree of Associate of Applied Science (A.A.S.) in Health and Human Services, Health Care Administration and Respiratory Therapy, Associate in Occupational Studies (A.O.S.) and the Certificate in Medical Assisting, and the Associate in Occupational Studies (A.O.S.) in Surgical Technologist.
Mandl is institutionally accredited by the Accrediting Bureau of Health Education Schools (ABHES) which is located at 7777 Leesburg Pike, Suite 314 North, Falls Church, VA 22043, 703-917-9503.
Mandl's Respiratory Therapy Program holds Provisional Accreditation from the Commission on Accreditation for Respiratory Care (CoARC) which is located at 1248 Hardwood Road, Bedford, TX 76021- 4244, 817-283-2835, and can be found online at www.coarc.com. Enrolled students completing the program under Provisional Accreditation are considered graduates of a CoARC accredited program.
National Certification
As a graduate of Mandl's programs, a student is eligible to sit for a national registry or certification examination. Becoming a member of one of these organizations provides some of our graduates continuing education opportunities, recognition by their peers as well as a nationally recognized credential. The following is a listing of those organizations certifying or registering Mandl's graduates:
The American Medical Technologists (AMT)
Registered Medical Assistant (RMA)
Registered Dental Assistant (RDA)
Registered Phlebotomy Technician (RPT)
American Association of Medical Assistants (AAMA)
Certified Medical Assistant (CMA)
American Medical Certification Association
Clinical Medical Assistant Certification
National Board for Respiratory Care
Registered Respiratory Therapist (RRT)
National Board of Surgical Technology and Surgical Assisting
Certified Surgical Technology (CST)
National Center for Competency Testing
ECG Technician (NCET)
Medical Assistant (NCMA)
Phlebotomy Technician (NCPT)
Tech in Surgery-Certified (TS-C)
National Healthcareer Association
Clinical Medical Assistant
Operating Room/Surgical Technician
Patient Care Technician
Mandl is approved by:
Department of Education for Training Veterans
New York State Higher Education Service Corporation – Tuition Assistance Program (TAP)
Federal Aid – Title IV Programs
U.S. Immigration and Customs Enforcement (ICE)
Adult Career and Continuing Education Services – Vocational Rehabilitation (ACCES) [Formerly VESID]
Mandl faculty and/or staff, maintain memberships in the following professional higher education and civic organizations:
American Association of Collegiate Registrars and Admissions Officers (AACRAO)
American Association for Respiratory Care (AARC)
Career Education Colleges and Universities (CECU)
Association of Surgical Technologists (AST)