SURGICAL TECHNOLOGISTS ARE IN HIGH DEMAND
Mandl School, The College of Allied Health offers a degree in Surgical Technologist. Our program is one of the only Surgical Technologist programs offered in New York City. A degree in Surgical Technologist requires dedication, determination and focused study. Mandl's professors and curriculum are designed to help you gain invaluable skills and prepare for internships and  exams. Our Career Development Center can help you to embark on a career path. The rewards are many. As health care needs continue to rise at a dramatic rate, Surgical Technologists are in high demand. A Mandl degree offers a clear path to opportunities for a fantastic career.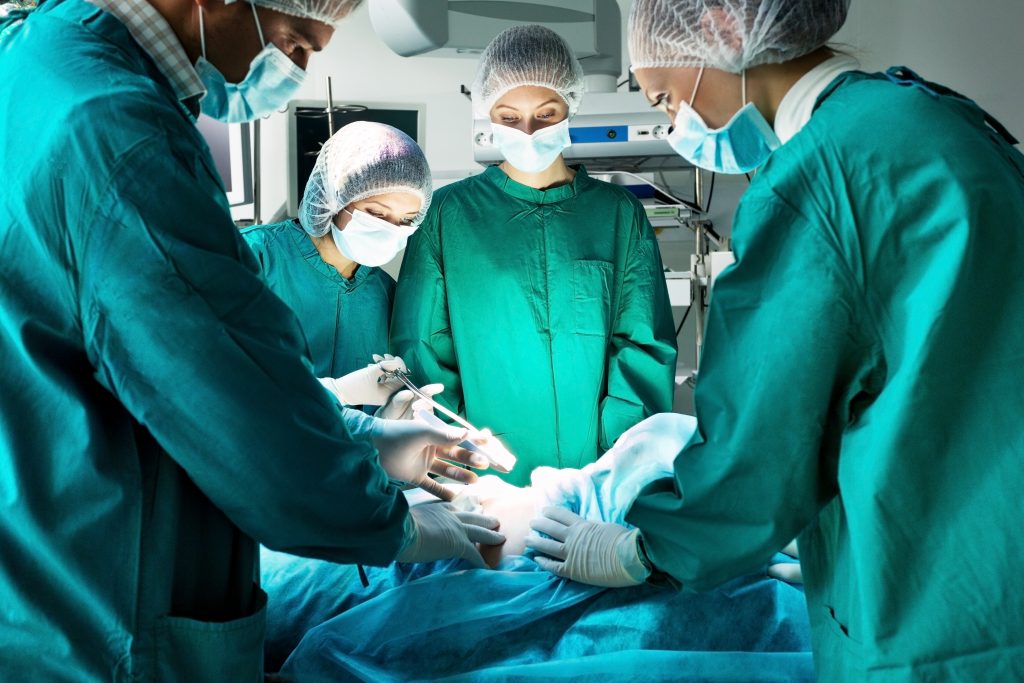 SURGICAL TECHNOLOGISTS: HOW IT STARTED
The role of the surgical technologist began on the battlefields in World War I and World War II when the U.S. Army used "medics" to work under the direct supervision of the surgeon. Concurrently, medical "corpsman" were used in the United States Navy aboard combat ships. Nurses were not allowed aboard combat ships at the time. This led to a new profession within the military called operating room technicians (ORTs).
With many medical personnel overseas or performing duties in military hospitals, an accelerated nursing program with emphasis only on operating room technology was set up as an on-the-job training of nursing assistants who worked in the surgery department. These individuals studied sterilization of instruments and how to care for the patient in the operating room. Techniques, sutures, draping and instrumentation were emphasized; they also had to do clinical time in labor and delivery and the emergency room.
After the Korean War there were shortages of operating room nurses. Operating room supervisors began to recruit ex-medics and ex-corpsmen to work in civilian hospitals. These ex-military men functioned as circulators in the operating room while the scrub role or "instrument nurse" role was performed by the registered nurse. It was not until 1965 that these roles were reversed.
In 1974, an accreditation body was established to ensure quality education. The programs accredited by ARC/STSA (Accreditation Review Committee for Surgical Technology and Surgical Assisting; formerly ARC-ST) are monitored for compliance with the standards. The ARC/STSA and AST board of directors recommends the associate degree as entry level surgical technology education. Mandl School offers an Associate Degree in Surgical Technologist.
SURGICAL TECHNOLOGISTS TODAY
A surgical technologist is an allied health professional working as a part of the team delivering surgical care. Surgical technologists are members of the surgical team. The members of the team include the surgeon, surgeon's assistant, circulator nurse and anesthesia provider (anesthesiologist or nurse anesthetist). They possess knowledge and skills in sterile and aseptic techniques. The goal is for surgical technologists to be able to anticipate the next move the surgeon is going to make in order to make the procedure as smooth and efficient as possible. They do this by having knowledge of hundreds of surgical procedures and the steps the surgeon needs to take in order to complete the procedure, including the very wide range of surgical instruments they may need. They only work in surgical or perioperative areas and are highly specialized.
HOW TO BECOME A SURGICAL TECHNOLOGIST
Contact our Admissions team to discuss how to enroll in our Surgical Technologist program. We will review all requirements needed to begin including financial aid opportunities, internships, career placement and more.
During your classroom courses, you will discover operating room prep, sterilization methods, human anatomy, medical terminology, and how to appropriately use medical equipment. After passing the classroom portion of your program, students are required to complete a clinical internship. Placed with an experienced mentor in a hospital setting, prospective Surgical Technologists will participate in surgical procedures.
Considering to become a Surgical Technologist means you are ready to begin a true career path. And it starts at Mandl School! Call us at 212-247-3434 today or fill in our short form and we will get right back to you.