National HIV testing day is Wednesday June 27.
June 27th is an important day, it is National HIV Testing Day.  In an effort to keep our students at Mandl School, their families and everyone informed of news and events related to health care, it's important to spread the word that June 27th is National HIV Testing Day. We have come so far in testing and treating HIV but there are still people living with HIV and may not know it.
National HIV Testing Day (NHTD), a day to encourage people to get tested for HIV, know their status, and get linked to care and treatment if they have HIV. This year's theme, Doing It My Way, Testing for HIV, reminds us that each person has their own reasons why they test for HIV and their own unique ways of Doing It.
About 1.1 million people in the United States have HIV.
In the 1.1 million people, 1 in 7 don't know they have HIV. Many people have HIV for years[1.86 MB] before they get a diagnosis. For those who are living with undiagnosed HIV, testing is the first step in maintaining a healthy life and reducing HIV transmission. CDC recommends that everyone between the ages of 13 and 64 get tested for HIV at least once as part of routine health care and those at high risk get tested at least once a year. Some sexually active gay and bisexual men may benefit from more frequent testing (every 3 to 6 months).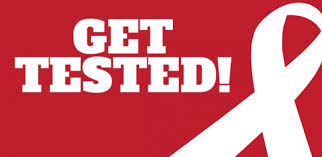 Knowing your HIV status gives you powerful information to help keep you and your partner healthy. Join us on NHTD to raise awareness about the importance of HIV testing and early diagnosis of HIV. Share why and how you are getting tested for a chance to be featured on the Doing It My Way social wall.
Knowing your HIV status helps keep you and your partner healthy. Visit Doing It to learn more.
What Can You Do?
Get the facts. Learn about HIV, and share this information with your family, friends, and community.
Get tested. The only way to know for sure whether you have HIV is to get tested. To find a testing site near you, use the Doing It testing locator, text your ZIP code to KNOWIT (566948), or call 1-800-CDC-INFO. You can also use a home testing kit, available in drugstores or online.
Protect yourself and your partner. Today, we have powerful tools to prevent HIV and help people with HIV to stay healthy. If you have HIV, start treatment as soon as possible after you get a diagnosis. The most important thing you can do is take HIV medicine as prescribed by your doctor.
HIV medicine lowers the amount of virus (viral load) in your body, and taking it every day can make your viral load undetectable. If you get and keep an undetectable viral load, you can stay healthy for many years, and you have effectively no risk of transmitting HIV through sex to an HIV-negative partner. To make sure you keep an undetectable viral load, take your medicine as prescribed, and see your provider regularly to monitor your health.
There are many other actions you can take to prevent getting or transmitting HIV:
Use condoms the right way every time you have sex. Learn the right way to use a male condomor a female condom. Check out the condom locator to find condoms near you.
If you are HIV-negative but at high risk for HIV, take daily medicine to prevent HIV, called pre-exposure prophylaxis (PrEP). Use the PrEP locatorto find a PrEP provider in your area.
Talk to your doctor about post-exposure prophylaxis (PEP)if you think you have been exposed to HIV in the last 72 hours and are not on PrEP.
Choose less riskysexual behaviors.
Limit your number of sexual partners.
Get tested and treated for other sexually transmitted diseases.
Never share syringes or other equipment to inject drugs (works).
Remember, abstinence (not having sex) and not sharing syringes or works are the only 100% effective ways to prevent HIV.
You can learn more about how to protect yourself and your partners and get information tailored to meet your needs from CDC's HIV Risk Reduction Tool(BETA).
At Mandl School, Our pledge is to provide our students with the finest Allied Health academic programs and training available in the New York City.  It is our mission to educate men and women, regardless of their backgrounds, to serve ably and effectively in the allied health industry. For more information about starting a career in Health Care, please contact us here or call 212-247-3434.